LiFePO4 48V 150Ah lifepo4 battery is the perfect drop-in replacements for AGM, GEL, or lead-acid batteries and are commonly used in Forklift , golf carts, mobility vehicles, e-bike, e-scooter, automated guided vehicle (AGV),RV, Camping car, automotive, marine, boat, medical devices, telecommunication, and much more.
LiFePO4 batteries adopt durable internal structures to ensure they are suitable for the toughest conditions, such as high charge and discharge currents, humid environments, and mechanical shocks or vibrations. These lithium-ion batteries are well-defined performance, long-term stability, are keeping efficiency, last much longer than conventional batteries, giving you peace of mind and saving time and money on maintenance and replacements.
Product Name
Deep Cycle LiFePO4 Battery 48V 150Ah Lithium Golf Cart Battery with RS485 CANBUS
Specification of battery pack
Electrical Characteristics

Nominal Voltage

51.2V

Nominal Capacity

Minimum: 150Ah

Energy

7.68KWh

Internal Resistance

≤30mΩ

Cycle Life

>2000 cycles @1C 100%DOD; >3000 cycles @1C 80%DOD;

Months Self Discharge

<3%

Efficiency of Charge

100% @0.5C

Efficiency of Discharge

96~99% @1C

Standard Charge

Charge Voltage

57.6±0.2V

Charge Mode

CC/CV

Recomm.Charge Current

50A

Max. Charge Current

150A

Over Charge Cut-off Voltage

62.4V at 3.9V per cell

Standard Discharge

Continuous Current

100A

Max. Pulse Current

300A

Over Discharge Cut-off Voltage

40V at 2.5V per cell

Environmental

Charge Temperature

0 ℃ to 45 ℃ (32F to 113F) @60±25% Relative Humidity

Discharge Temperature

-20 ℃ to 60 ℃ (-4F to 140F) @60±25% Relative Humidity

Storage Temperature

0 ℃ to 40 ℃ (32F to 104F) @60±25% Relative Humidity

Plastic Case

ABS+PC UL V-0 flame resistant

Dimensions (in./mm.)

475*355*235mm

Weight (lbs./kg.)

40kg

Terminal

Andreson connectors

Protocol (optional)

CANBUS ,RS232,RS485
LP strictly follow the high-standard production and testing processes, to guarantee lithium batteries are qualified and safe for use in different applications.Here are some other features LiFePo4 lithium-ion batteries.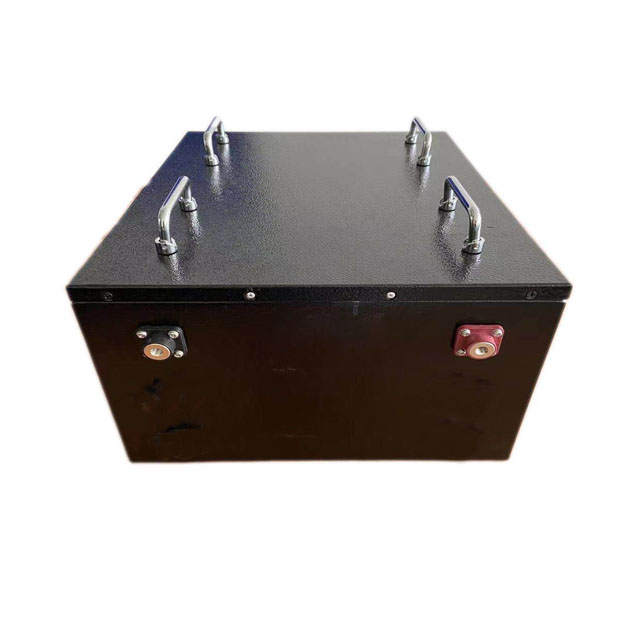 More Feature:
Battery pool shell selection: custom shells according to customer preferences: plastic lead acid instead of shell, stainless steel shell, acrylic shell

Can be connected in series and parallel according to customer needs
Safe for Transportation
Recently, all lithium batteries are required to pass UN38.3 for shipment. We are proud of our batteries are confirm to UN38.3 shipping regulations that are safe for air or sea shipping.
Package by standard UN cartons.
LP has developed different series of LiFePo4 lithium-ion batteries for different applications. Please contact us for the details of these batteries, we will provide you the professional solutions and the best price, as well as the best service. info@lifepo4power.com